C.E.E.P.
The College Enhancement Educational Program
It's pretty ironic that most of the Don Family had participated
in the C.E.E.P. program in 1998.
We were classified as students that were given a
chance to experience a college atmosphere. So that we would have
and edge on other incomming students
The following are a few pictures from C.E.E.P.
when Vic Damone, Don P and Don Juan, Coleone
were participating in it.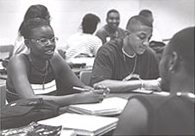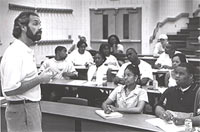 In order from left to right, these people are in these pictures
1. Kelly , Norman, Clifton, VicDamone, Melaina, Anissa
2. Coleone (Derrick Adams), Damon Pryor
3. [Psychology Teacher] Carl Johnson, Keisha, Don P (Peter Dickerson), Keadra, Kim, Toni, Melaina
4. [EHS Teacher Cassie Hessler] Coleone, Herman, Victor, Melaina
The Don Family thanks Minority Student Services for all their help for our
academic success, because without C.E.E.P. we wouldn't exist and be as strong as we are.
The following link are the people that keep minority unity alive on CMU's campus
---
Over the summer of 2000 I had the privilege of returning what I had learned
back to the school. C.E.E.P. 2000 was a bit different there were 14 students
that had been chosen after through a screening process. Take a look
- Vic Damone
---
The Ladies of C.E.E.P. 2000
| | |
| --- | --- |
| | Dynia, Mori, Christian, JP, Courtney (not pictured) |
| | Caffrey, Chrissy, Dynia, Mori, Christian, JP, Jamese |
The Fella's of C.E.E.P. 2000
| | |
| --- | --- |
| | |
| Matt, David, Tony | Justin, Nate, Byron |
I'm happy to say that all of the students were accepted to Central Michigan University
and were one of the best group of students that MSS has ever had to deal with.
I'd like to give a thank you to everyone that made everything possible,
thanks Tarsha Wilkerson, I still couldn't have done it without you.
- Vic Damone
P.S. - Let me know if I misspelled any of your names wrong, my bad I'm only human**