Coleone
---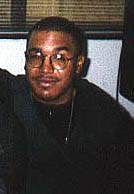 Coleone (pronounced - cole-lee-on)
Derrick is a very smart individual, graduated from Cass Tech High School located in the heart of Detroit.

Reprezentin the Westside of Detroit, known for hangin with the DonPham
on a regular basis. You can catch Derrick pushin' the Explorer or the K-Car
around the city. The most diverse of the bunch Coleone
always know for off the wall taste of music and movies.
Currently has a attended Central Michigan University as well as the rest of us
currently he is taking classes at HFCC.
Derrick the oldest brother of the Don Family,
And a further note if you do get a chance to meet him beware of his
unusual pause before he curses you out.

---

If you want to E-mail Coleone click the icon.
The Grandmaster | Coleone | Don P | Vic Damone | Don Juan